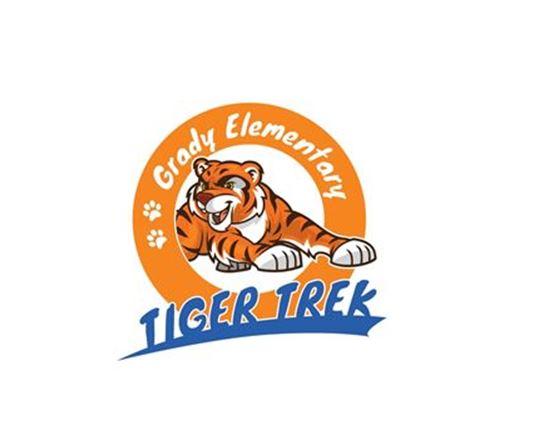 Coming soon! TigerTrek student Walk-a-thon on November 17th
WHAT: The annual Grady Walkathon will take place on November 17th. Your child will have an opportunity to raise money in a fun way!
WHY: This PTA fundraiser will have no food to buy, magazines to order or catalogs to look through. 100% of the proceeds will go directly to Grady to benefit your children and our school. It's a great way for your child to have fun while they exercise.
HOW: Students can ask family members, friends and neighbors to support Grady by pledging money towards their participation. Parents may also take this form to work to ask co-workers to support their child at Grady. You can also donate online here: Donate online.
For your convenience, per-lap pledges have been replaced by flat donations. However, your walker will still enjoy competing for prizes on the number of laps completed.
GOALS AND INCENTIVES:
- We encourage every walker to raise at least $35 in donations.
- The PTA has worked hard to win sponsorship from local businesses. There will be hundreds of prizes from Jeremiah's Italian Ice, Nothing Bundt Cakes, Xtreme Juice, Yogurtology, Pinarama Lanes and more! Others have graciously donated money and you'll see their logos on the event T-shirt.
- The event T-shirt will be award to walkers who raise a minimum of $35. Your child is welcome to wear their Tiger Trek t-shirt on Spirit Day… so expect their excitement.
IMPORTANT DATES:
- Tuesday, October 24th- Donation Envelope will go home with your child. The outside of the envelope will be used to record and collect donations.
- Monday, October 30th- deadline to return the Donation Envelope by to guarantee your child has their t-shirt for the Walk-a-thon. Envelopes turned in after that, which meet the $35 threshold will still receive the t-shirt, it just may not be in time for Tiger Trek.
- Friday, November 17th- date of Tiger Trek Walk-a-thon